---
UPCOMING MEETINGS!!!
Don't miss the opportunity to join FFLIC and participate in our monthly chapter meetings:
Shreveport: 2nd Sunday of Every Month
New Orleans: 3rd Thursday of Every Month
Lake Charles: 4th Tuesday of Every Month
Lafayette: 4th Wednesday of Every Month
Place: TBA for information call FFLIC 504.708.8376 or toll free: 855.50.FFLIC
BECOME A LEADER WITH THE LEADERS WHO ARE PUSHING FOR JUVENILE JUSTICE AND EDUCATION REFORM FOR FAMILIES.
LEADER TRAINING MONTHLY: 4th Thursday of Every Month
For information on how to join in...
call 504.708.8376 or
toll free: 855.50.FFLIC
---
Visit www.FFLIC.org
or @fflicla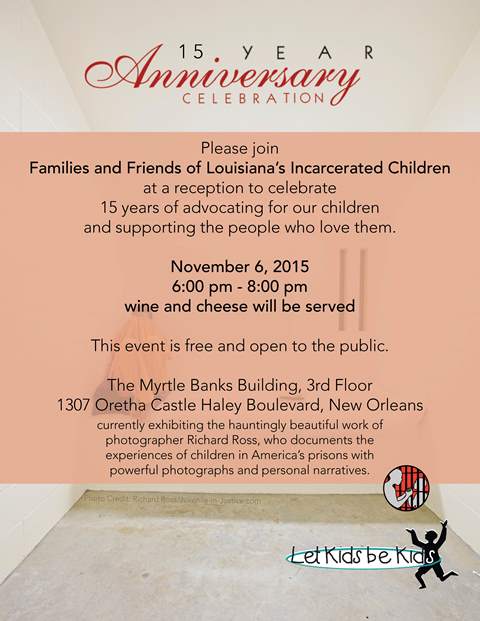 WE HOPE YOU CAN JOIN US...
What started as a support group for outraged parents and grandparents of children suffering in our Louisiana youth prison at the home of Earnestine Williams in November 2000, has grown into what we now know as Families and Friends of Louisiana's Incarcerated Children (FFLIC).
Parents led a grassroots campaign, along with advocates for youth in the juvenile justice community, by holding a "mock jazz funeral" in 2001 to mourn the lost freedom and departing dreams of their children, thus, formally coming out as FFLIC. This was the first of many events chronicled since this organizations' inception to bring awareness to the injustices and disparities faced by our youth in the juvenile justice system. Our work has resulted in the closing of the country's most abusive youth prison, the Tallulah Correctional Center for Youth, reforming schools, building communities and campaigns to end the school-to-prison pipeline, which has recently garnered national support through our "Let Kids Be Kids" initiative.
To kick-off our 15year anniversary celebration, FFLIC is holding an event entitled: FFLIC: 15 Years Strong: "Let Kids Be Kids." The event will be held on November 6, 2015 from 6-8pm at 1307 Oretha Castle Haley Boulevard, 3rd floor, New Orleans, LA 70113. A silent auction will be held and in addition, artwork by Richard Ross of Juvenile InJustice will be displayed throughout the floor as part of the event. We hope that you will join us at the reception on November 6th to celebrate this momentous occasion.
---
FFLIC IN THE NEWS
Over the last few months FFLIC has had the opportunity to be featured in the news. Take a moment to see what we have been up to...
August
https://nonprofitquarterly.org/2015/08/21/katrina-10-vs-katrina-truth-sharply-contrasting-visions-of-the-new-orleans-recovery/
http://www.huffingtonpost.com/ebonycom/katrina-truth-site-detail_b_8019886.html,
http://fergusonresponse.tumblr.com/post/127395593858/katrina-truth-k10-remember-new-orleans,
http://www.bayoubuzz.com/louisiana-news/new-orleans-news/item/972723-katrina-truth-site-details-neglect-of-black-new-orleans,
http://www.nola411.com/2015/08/katrina-truth-site-details-neglect-of.html, https://slantpoint.com/katrina-truth-site-details-neglect-of-black-new-orleans/,
http://www.ebony.com/news-views/katrina-truth-site-details-neglect-of-black-new-orleans-432#axzz3jo1jxlU4 ;
http://www.colorlines.com/articles/new-website-highlights-plight-black-new-orleans-decade-after-katrina,
http://www.ebony.com/news-views/katrina-truth-site-details-neglect-of-black-new-orleans-432#axzz3jMXLI1RI,
http://www.bestofneworleans.com/blogofneworleans/archives/2015/08/28/blacklivesmatter-co-founder-alicia-garza-delivers-keynote-at-katrina-memorial,
http://www.theroot.com/articles/culture/2015/08/_like_another_katrina_charter_school_effects_on_black_new_orleanians_after.2.html,
http://www.otlcampaign.org/blog/2015/08/21/new-website-shares-katrinatruth,
http://trggradio.org/trggr-many-roads-to-freedom-standing-as-one-8-21-2015/;
http://crooksandliars.com/2015/08/melissa-harris-perry-rips-bush-revisionist
September
http://iam.colorofchange.org/petitions/support-black-youth-locked-out-of-katrina-recovery-pushed-out-of-school
interview on WestWindCincinnati aired on 9/27,
interview on WBOK re: COC town hall on 9/25
http://www.louisianaweekly.com/pope-francis-should-make-us-rethink-louisiana-schools-zero-tolerance-policies/
October
http://www.nola.com/education/index.ssf/2015/10/new_orleans_school_discipline_1.html
http://www.nola.com/education/index.ssf/2015/10/school_suspensions.html#incart_river
http://photos.nola.com/tpphotos/2015/10/fflics_runwalk_photo_of_the_da.html
http://www.edweek.org/ew/articles/2015/10/14/the-sexual-abuse-to-prison-pipeline.html