---
UPCOMING MEETINGS!!!
Don't miss the opportunity to join FFLIC and participate in our monthly chapter meetings:
Shreveport: 2nd Sunday of Every Month
New Orleans: 3rd Thursday of Every Month
Lake Charles: 4th Tuesday of Every Month
Lafayette: 4th Wednesday of Every Month
Place: TBA for information call FFLIC 504.708.8376 or toll free: 855.50.FFLIC
BECOME A LEADER WITH THE LEADERS WHO ARE PUSHING FOR JUVENILE JUSTICE AND EDUCATION REFORM FOR FAMILIES.
LEADER TRAINING MONTHLY: 4th Thursday of Every Month
For information on how to join in...
call 504.708.8376 or
toll free: 855.50.FFLIC
---
Visit www.FFLIC.org
or @fflicla
TEN YEARS AFTER HURRICANE KATRINA, BLACK NEW ORLEANS HAS NOT RECOVERED
Racial Justice Groups Launch KatrinaTruth.org, a Website Detailing the Decade-Long Neglect of the Black Population in New Orleans
On August 29, 2005, Hurricane Katrina hit New Orleans, Louisiana. More than 1,800 lives were lost and 600,000 people were left homeless. This year marks the ten-year anniversary of the storm and provides an important opportunity to reflect on the ways New Orleans has changed since Katrina. Today, Advancement Project, a national civil rights organization and Families and Friends of Louisiana's Incarcerated Children (FFLIC), a grassroots multi-generational statewide membership organization based in New Orleans, launched KatrinaTruth.org. The website details how African Americans in New Orleans have been left behind in the city's recovery efforts and the decade-long displacement and neglect this community has suffered.
"KatrinaTruth.org is a direct response to the erasure of Black struggle post-Katrina," said Judith Browne Dianis, Advancement Project Co-Director. "The facts and data presented on this website invite a more nuanced look at the progress in New Orleans following the storm. What you will see is that the progress touted by the city and state completely disregards the lack of progress for Black New Orleans. This is both nonsensical and reprehensible."
"What we saw during Katrina was abandonment of the Black population in New Orleans," said Gina Womack, Executive Director of FFLIC. "Many black people faced the storm alone ten years ago and have faced the recovery alone today. We cannot and should not forget that in the days following the storm, Black people were targeted as looters, were shot at by police and racist vigilantes and rounded up and held in horrific conditions in the Superdome. This disregard for the lives of people of color continues today through the disinvestment of the Black community and the debasement of Black livelihood through aggressive gentrification and privatization policies."
"Plain and simple, the recovery efforts of the last ten years in New Orleans mostly benefitted White residents," said Ernest Johnson, FFLIC's Statewide Juvenile Justice Reform Campaign and Policy Director. "America's comeback city is one where the Black median income remains less than one half of the White median income. It is a city where the Black unemployment rate is nearly three times the rate of White unemployment rate. It is a city where only 30% of residents in the predominately Black Lower 9th Ward have been unable to return to their homes. It is evident that recovery was out of reach and unavailable to African Americans."
The website provides information on eight issue areas: housing, education, criminal justice, income inequality, environmental justice, LGBTQ, health and the overall state of Black New Orleans.
Nowhere is it more apparent that Black New Orleans has not recovered than in education. Three months after Katrina, the Louisiana legislature passed Act 35 allowing the state-run Recovery School District ("RSD") to take over 107 New Orleans public schools previously controlled by the Orleans Parish School Board ("OPSB"). The implementation of RSD's real agenda to privatize public education by recklessly closing or converting all district-run schools. In May 2014, RSD closed the last five public schools, becoming the first all-charter district in the nation.
"Under the guise of education reform, corporate profiteers and politicians zeroed in on New Orleans after the storm," said Thena Robinson Mock, Project Director of Advancement Project's Ending the Schoolhouse to Jailhouse Track Campaign. "Today, most Black students are still trapped in failing or near-failing public schools and experience a deeper, more severe form of charter school "push-out" through suspensions and expulsions."
"Hurricane Katrina destroyed so much and there is still much work to be done," said Browne Dianis. That is why we must counter any narrative that whitewashes or fails to highlight the lived experience of Black New Orleanians." http://katrinatruth.org
---
BILLBOARDS TO HIGHLIGHT KATRINA TRUTH WEBSITE GO UP IN NEW ORLEANS

---
MARK YOUR CALENDARS TO ENSURE YOU ARE WITH US FOR OUR KATRINA 10 EVENT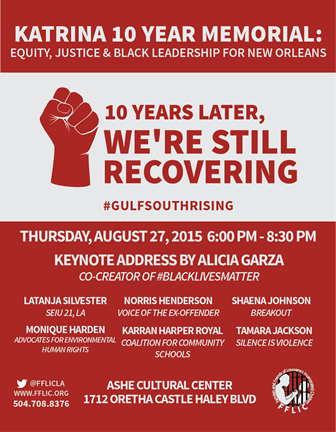 ---
Gulf South Communities Rise Up:
Week of Action Commemorating Ten Years Since Hurricane Katrina: #GulfSouthRising

Local and regional organizations are collaborating to produce the Katrina 10 Week of Action for the
tenth year commemoration of Hurricane Katrina. This week of action features performance arts, policy
forums, film screenings, teach-ins, youth gatherings, healing spaces, a march with a second-line, and
rally in multiple locations from Coden, Alabama to New Orleans, Louisiana. From August 21 – 30, 2015,
there will be a powerful coming together of communities resisting injustice masked as "recovery" and
"resilience" in the aftermath of Katrina. They will share their vision for human rights, equity, and
climate justice in the Gulf Region. All events are free and open to the public.
Who: Local and regional organizations on the frontlines of climate change and social injustice
What: Katrina 10 Week of Action, a series of community events commemorating ten years since
Hurricane Katrina (see Katrina 10 Week of Action, see attached)
When: August 21, 2015 – August 30, 2015
Where: Multiple locations from Coden, Alabama to New Orleans, Louisiana
---
Citywide Day of Service
As one of the most comprehensive and unique service projects in the nation, the Citywide Day of Service will engage 10,000 volunteers with up to 100 service projects at seven regions across the city of New Orleans.
Saturday, August 29 | 8:30 a.m.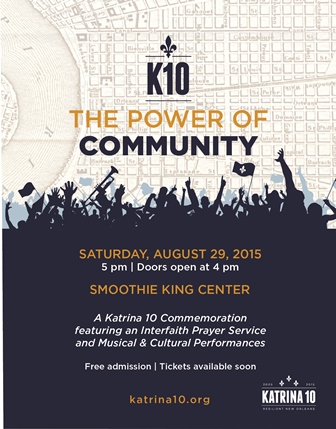 K10 Commemoration: The Power of Community
A public event featuring an interfaith prayer service, speeches, musical & cultural reflections and videos to remember the lives that were lost, invite those who have not yet returned to New Orleans back home, celebrate the city's resilience and future. A Community Second Line to O.C. Haley Blvd. will immediately follow the event.
Saturday, August 29 |5 p.m.
Smoothie King Center |1501 Dave Dixon Dr.
See additional information attached.