---
UPCOMING MEETINGS!!!
Don't miss the opportunity to join FFLIC and participate in our monthly chapter meetings:
Shreveport: 2nd Sunday of Every Month
New Orleans: 3rd Thursday of Every Month
Lake Charles: 4th Tuesday of Every Month
Lafayette: 4th Wednesday of Every Month
Place: TBA for information call FFLIC 504.708.8376 or toll free: 855.50.FFLIC
BECOME A LEADER WITH THE LEADERS WHO ARE PUSHING FOR JUVENILE JUSTICE AND EDUCATION REFORM FOR FAMILIES.
LEADER TRAINING MONTHLY: 4th Thursday of Every Month
For information on how to join in...
call 504.708.8376 or
toll free: 855.50.FFLIC
---
Visit www.FFLIC.org
or @fflicla
FFLIC 16th Year Anniversary Weekend
Dear Members, Friends and Allies,
We are happy to announce that The Service Project collection taken at the Sunday Morning Worship during Unitarian Universalist General Assembly in New Orleans on June 21st - 25th 2017 will benefit FFLIC. http://www.uua.org/ga/justice/service-project. We are also thankful that the Youth Justice Funding Collaborative will match donations made to FFLIC during this time dollar for dollar up to $35,000.00. Won't be at the General Assembly? You can still make donations during that time by donating directly to FFLIC.
---
STAFF CHANGES AT FFLIC: Our statewide organizer, Chandra Grayson has left FFLIC's employ. Due to family priorities that have arisen to a more critical point in Chandra's life that require her full attention, Chandra decided to resign from FFLIC. We will definitely miss Chandra and are very grateful for all of the work she has done to keep FFLIC moving and although she is not able to continue as staff of FFLIC she has assured us that she will remain part of the membership.
We are happy to announce that our youth leader and BMR core member Theodore Thompson will be taking over most of the work Chandra was responsible for and has been promoted to Program Assistant. We have also made a few more promotions, BMR core members Antonio Travis has been promoted to Program Director; Derek Brumfield has been promoted to Associate Director; and Farrell Sampier has been promoted to Statewide Organizer. Maria Victoire who has also been working with FFLIC for a long time has been promoted to Community Organizer and longtime parent leader Ms. Verna Carr has been promoted to Parent Advocate. As well, Ms. Verna is providing mentorship inside of the Youth Study Center for the girls. All promotions are part-time.
---
This legislative session FFLIC had 2 awesome days at the State Capitol this year and on May 11th we held our 1st annual Mother's Day Event to educate lawmakers on the need to support laws that are not oppressive to our families. We were fortunate to receive commendation from Rep. Walt Leger commending FFLIC for its work on behalf of parents for over 16 years. http://www.legis.la.gov/legis/BillInfo.aspx?i=232466
Thank you Rep. Walt Leger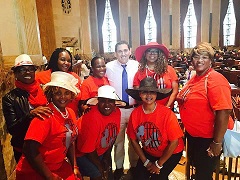 ---
LASTLY!!! SAVE THE DATE FOR FFLIC'S 16TH ANNIVERSARY WEEKEND - SEPTEMBER 9TH AND 10TH - LOCATION TBA
Mock Jazz Funeral September 9th - 11:00am to 01:00pm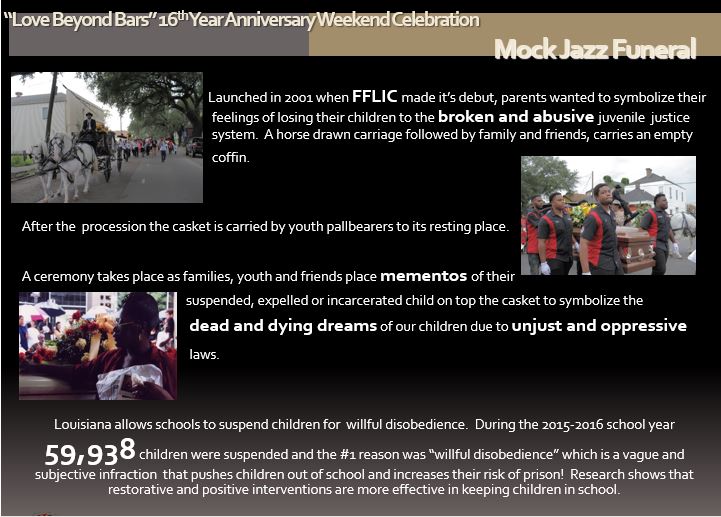 16th Year Anniversary Gala - September 9th 07:00pm to 10:00pm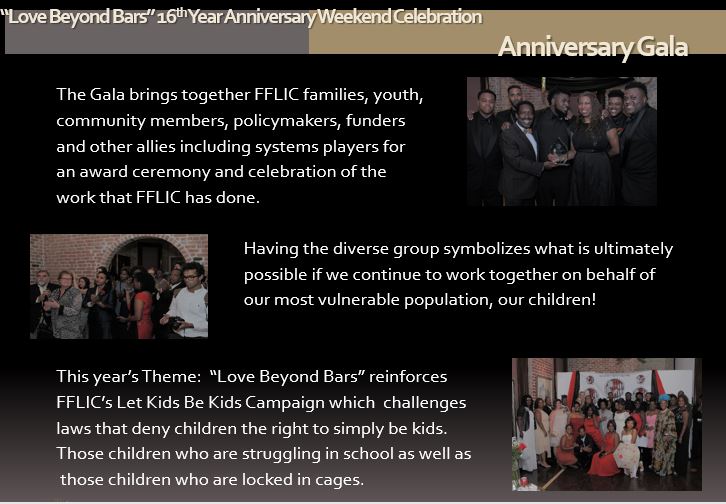 Annual Member Meeting: Members Only - September 10th 10:00am to 02:00pm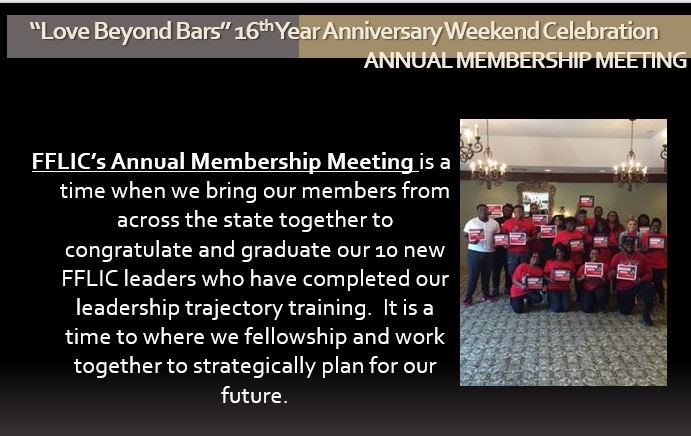 Want to be associated with this amazing event? We are still seeking a title sponsor, sponsorships, program ads and a limited number of committee members. Interested, please email Gina Womack at gbwomack@fflic.org or call 504.708.8376 for more information.
HOPE TO SEE YOU THERE!!!