---
UPCOMING MEETINGS!!!
Don't miss the opportunity to join FFLIC and participate in our monthly chapter meetings:
Shreveport: 2nd Sunday of Every Month
New Orleans: 3rd Thursday of Every Month
Lake Charles: 4th Tuesday of Every Month
Lafayette: 4th Wednesday of Every Month
Place: TBA for information call FFLIC 504.708.8376 or toll free: 855.50.FFLIC
BECOME A LEADER WITH THE LEADERS WHO ARE PUSHING FOR JUVENILE JUSTICE AND EDUCATION REFORM FOR FAMILIES.
LEADER TRAINING MONTHLY: 4th Thursday of Every Month
For information on how to join in...
call 504.708.8376 or
toll free: 855.50.FFLIC
---
Visit www.FFLIC.org
or @fflicla
Please join FFLIC at the Capitol!
Dear Members, Friends and Allies,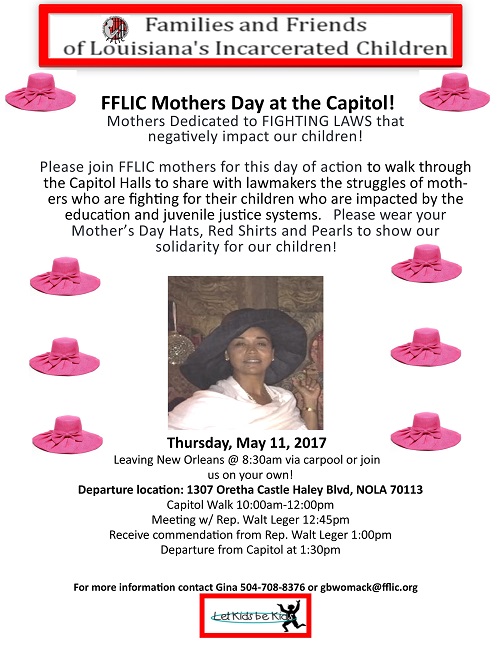 On Thursday, May 11, 2017, in recognition of mothers who are fighting for their incarcerated children and children targeted by the school to prison pipeline, FFLIC will be hosting a "Mother's Day at the Capitol" event.
We are asking all mothers to join us as we walk through the Capitol Halls showing our love and support of our children who have been entrapped in the youth justice system. FFLIC will also be receiving special recognition from Representative Walt Leger!
Please wear your hats, red shirts (FFLIC t-shirts if you have one) and pearls to show solidarity on this day of action.
Below are a list of bills that FFLIC is supporting or opposing this session and we ask that you please also support the bills that seek to reform the broken education and juvenile justice systems in Louisiana and oppose the ones that continue oppress our families and children.
Thank you for your support and hope to see you at the Capitol tomorrow!
Juvenile Justice Bills
SB156 (Lambert) - Strongly Oppose - Exempts juvenile detention centers from basic standards of care for youth who are detained for 30 days or less.
SB158 (Milkovich) - Strongly Oppose - Authorizes a school employee who witnesses bullying to take all steps deemed necessary to stop the behavior, including reasonable force or physical restraint. Authorizes school officials to contact law enforcement and have the student placed in custody. Provides protection for school employees that report bullying. Removes requirement that before any student under the age of 18 is interviewed, his parent or legal guardian must be notified. Makes the determination that a student committed an act of bullying a public record.
HB74 (Marcelle) - Strongly Support - Louisiana Youth Justice Coalition Vitter law
HB122 (Pierre) - Support - Prohibits questions regarding criminal history on an initial application for admission to a public postsecondary education institution. Also says that the Common App can only be accepted if there are no questions about criminal history or the questions aren't answered. NOTE: This doesn't say anything about juvenile adjudications, but the common app asks about those so presumably the intention is that they would apply as well. May need to be amended to do so.
HB141 (Miller) - Strongly Oppose - Amends 412 to require the court to submit identifying information, arrest charge, and the adjudication (if applicable) to the school for any child who is arrested for a felony charge.
Education Bills
SB85 (Colomb) - Support - Authorizes DOE and LDH to survey students regarding certain risk behavior associated with chronic health conditions.
SB91 (Peterson) and HB79 (Foil) - Support if amended to include ALL children - Prohibits the use of corporal punishment for certain students with exceptionalities.
HB239 (Bouie) - Support - Requires the State Bd. of Elementary and Secondary Education (BESE) to submit certain information relative to all charter schools operating in La. to the legislature and the legislative auditor. Prohibits the authorization of charter schools pending certification of such information by the legislative auditor.
HB497 (Norton) - Support - Prohibits the use of corporal punishment for all students.