---
UPCOMING MEETINGS!!!
Don't miss the opportunity to join FFLIC and participate in our monthly chapter meetings:
Shreveport: 2nd Sunday of Every Month
New Orleans: 3rd Thursday of Every Month
Lake Charles: 4th Tuesday of Every Month
Lafayette: 4th Wednesday of Every Month
Place: TBA for information call FFLIC 504.708.8376 or toll free: 855.50.FFLIC
BECOME A LEADER WITH THE LEADERS WHO ARE PUSHING FOR JUVENILE JUSTICE AND EDUCATION REFORM FOR FAMILIES.
LEADER TRAINING MONTHLY: 4th Thursday of Every Month
For information on how to join in...
call 504.708.8376 or
toll free: 855.50.FFLIC
---
Visit www.FFLIC.org
or @fflicla
FFLIC is sending a Heartfelt THANK YOU to our
Dear Members, Friends, and Allies,
On Valentine's Day, February 14, 2017, FFLIC made history as we visited juvenile prisons and detention centers across the state to "Stand in Love" with Louisiana's incarcerated children.
9 states across the country participated in our event including California, Massachusetts, Washinton, D.C. and New York just to name a few and we even received international support from Ireland!
During our visits, we got an opportunity to interact with some of the youth in the facilities to listen to their plans and dreams once they are released.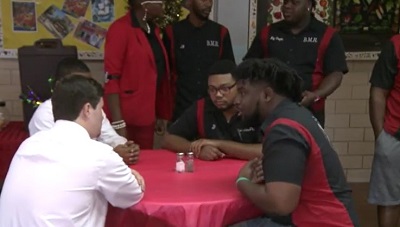 At Bridge City Center for Youth (BCCY) as we enjoyed the wonderful lunch prepared by the youth at BCCY, our youth leaders from FFLIC's Black Man Rising (BMR) Movement were able to speak with several of the incarcerated young men discussing the BMR Mentorship program. The youth were excited to learn of the mentorship opportunity and we look forward to working with BCCY to implement the program in the coming months. BMR engages youth of color and works to educate themselves and other youth in their communities on the policies and practices that are pushing them into the prison pipeline denying them an opportunity to an equitable education. Through their mentorship program, BMR will work with youth forming personal relationships and developing personalized practices that empower boys and young men of color. They will provide educational and informative resources to each mentee to promote their creative process and facilitate their imaginative endeavor.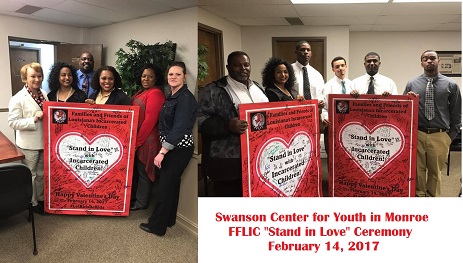 At Swanson Center for Youth (SCY) in Monroe, Fox Rich, our Shreveport organizer shared her experience with the criminal justice system with some of the youth and why it's important for our youth locked behind bars to know how much they are loved. One youth from the facility commented "This was huge; we had so many things in common and made me think that my goals are real." How could you not love a child who hasn't given up hope in the midst of his unfortunate circumstances? Absolutely inspiring!
We would like to thank the Office of Juvenile Justice, Bridge City Center for Youth, Swanson Center for Youth at Monroe, Calcasieu Parish Detention Center, and the New Orleans Youth Study Center's Travis Hill School for working with us and inviting us into the facilities to share the love from our families and communities across the state and around the world. (See more photos below)
A special thanks to Camino PR of New York for ensuring our message of love reached far and wide!
We would also like to thank all of our families, friends, and allies who took the time to participate and "Stand in Love" with FFLIC on such a special day of love!
We thank each and every one of you for your support and we ask you to always #StandinLove and #LetKidsBeKids! We plan to do this BIGGER and BETTER next year, so stay tuned because we need your support!
Please take a moment to look at event coverage by Ebony.com and our local news station WGNO, as well as the wonderful videos on Facebook and the wonderful images captured during our visits.
From our hearts to yours – THANK YOU!!!