---
UPCOMING MEETINGS!!!
Don't miss the opportunity to join FFLIC and participate in our monthly chapter meetings:
Shreveport: 2nd Sunday of Every Month
New Orleans: January 21st February 17th
March 17th April 20th May 19th June 15th
July 21st August 17th September 15th October 20th
November 17th
Lake Charles: 4th Tuesday of Every Month
Lafayette: 4th Wednesday of Every Month
Place: TBA for information call FFLIC 504.708.8376 or toll free: 855.50.FFLIC
_________________________
BECOME A LEADER WITH THE LEADERS WHO ARE PUSHING FOR JUVENILE JUSTICE AND EDUCATION REFORM FOR FAMILIES.
LEADER TRAINING MONTHLY: 4th Thursday of Every Month
For information on how to join in...
call 504.708.8376 or
toll free: 855.50.FFLIC
---
Visit www.FFLIC.org
or @fflicla
FFLIC 15th Year Anniversary Celebration
Upcoming Events
FFLIC Mock Jazz Funeral – Redux – September 17, 2016 - 12pm CST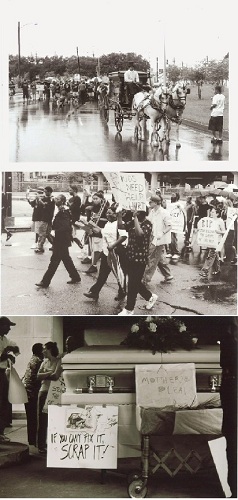 FFLIC made its debut in September of 2001 when parents and families organized a Mock Jazz Funeral, an adaptation of a New Orleans funerary tradition, to mourn the lost freedom and departing dreams of their children?
More than 150 people marched, and brass bands played while chanting parents and children led the way to Orleans Parish Juvenile Court.
The funeral's double meaning soon became clear. Parents wanted more than the reform previous lawsuits had requested; they demanded the death of the Tallulah Correctional Center for Youth (TCCY). FFLIC was born, and the "Close Tallulah Now!" Campaign became a reality.
On Saturday, September 17, 2016, FFLIC will celebrate by reenacting our very first mock jazz funeral and community rally mourning the loss of our youth, loss dreams and broken systems.
All activities are FREE AND OPEN TO THE PUBLIC!
THEME:​​ "Transforming Justice In Our Community and Schools: Let Kids Be Kids"
TIME:​ High Noon (12pm CST)
ROUTE: (Start) 1301 Oretha Castle Haley Blvd, to Martin Luther King Jr., Blvd. (RIGHT) on MLK continue on the DOWNTOWN side of MLK to MAGNOLIA (LEFT) on MAGNOLIA continue on the MAGNOLIA to JACKSON AVE (LEFT) on JACKSON to SIMON BOLIVAR (RIGHT) on SIMON BOLIVAR to A. L. DAVIS PARK (ENTER) A. L.. DAVIS PARK .
​1:00 p.m. – 3:00 p.m. – Community Rally and Resource Fair (A. L. Davis Park Basketball Court) - Testimonies, Food, Music, Kids Activities, Health Screening, Community Resources and Door Prizes!
If you would like to table information about your group or organization at the rally, please contact Avis Brock at 504.458.7979 or via email at amariabrock@aol.com.
Hope to see you there!
---
FFLIC 15th Year Anniversary Gala - September 17, 2016 - 6:00pm CST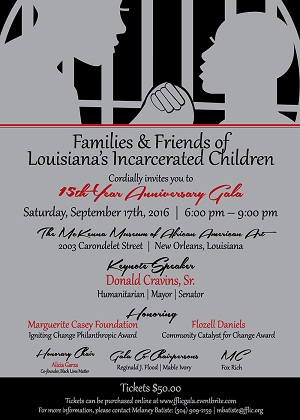 Join us on September 17, 2016 as FFLIC celebrates 15 years of supporting families and children who have been impacted by the juvenile justice system.
This special 15th anniversary gala will feature a keynote speech by Donald Cravins, Sr. and will honor The Marguerite Casey Foundation and Flozell Daniels, Jr., CEO and President of Foundation for Louisiana.
Tickets for the gala are $50 and are on sale now!
Please visit www.fflicgala.eventbrite.com to purchase yours today!
We look forward to seeing you at The McKenna Museum of African American Art for this momentous occassion!
**Can't make it? You can still make a donation by clicking the ticket link www.fflicgala.eventbrite.com .**
---
FFLIC's 2016 Annual Membership Meeting - September 18, 2016 - 9am
On September 18, 2016, FFLIC members from across the state of Louisiana will gather for our annual membership meeting to laugh, work and support one another as we continue to work to overcome oppressive systems! We will hear updates from our different chapters on the amazing work FFLIC has been doing, share the latest information about the school to prison pipeline and juvenile justice reform, and discuss what FFLIC will do in 2017 to keep up the fight for justice for our children and our families.
We will also be graduating 20 FFLIC Leaders who have completed FFLIC's Leadership Trajectory training.
This meeting is for FFLIC Members ONLY!
---
FFLIC's 7th Annual 5K Run/Walk - October 16, 2016 - 8am
On October 16, 2016 FFLIC will hold its 7th Annual 5k Run/Walk for Youth Justice Awareness (YJAM) month in conjunction with the Campaign for Youth Justice beginning at 8am in Audubon Park Shelter No. 10. Our partner, The Campaign for Youth Justice (CFYJ) is a national campaign dedicated to ending the practice of trying, sentencing, and incarcerating children under the age 18 in the adult criminal justice system, where they are frequently harmed or more likely to commit suicide. There is still time for you or your company/organization to support our children and families by becoming a major sponsor of this event. As a major sponsor, your company/organization will be acknowledged during all media coverage and advertising pertaining to this event. Also, your name or logo will be placed on the race shirts and your company/organization will receive two free registrations. Major sponsorships are $200.00.
The deadline to become a sponsor has been extended to September 6, 2016.
For more information about how to register for the race or to become a sponsor, please contact Chandra Grayson, FFLIC Statewide Organizer, at 504-473-6901, or email her at cgrayson@fflic.org