---
UPCOMING MEETINGS!!!
Don't miss the opportunity to join FFLIC and participate in our monthly chapter meetings:
Shreveport: 2nd Sunday of Every Month
New Orleans: 3rd Thursday of Every Month
Lake Charles: 4th Tuesday of Every Month
Lafayette: 4th Wednesday of Every Month
Place: TBA for information call FFLIC 504.708.8376 or toll free: 855.50.FFLIC
BECOME A LEADER WITH THE LEADERS WHO ARE PUSHING FOR JUVENILE JUSTICE AND EDUCATION REFORM FOR FAMILIES.
LEADER TRAINING MONTHLY: 4th Thursday of Every Month
For information on how to join in...
call 504.708.8376 or
toll free: 855.50.FFLIC
---
Visit www.FFLIC.org
or @fflicla
HOPE YOU CAN JOIN US!!!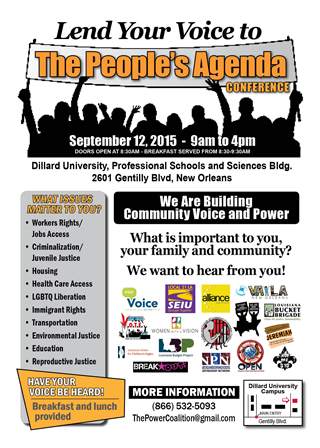 The Power Coalition, a network of local and statewide community based organizations in Louisiana, is convening its first People's Agenda Conference on Saturday, September 12th at Dillard University.

The all-day conference will bring together residents from south Louisiana to discuss many of the pressing issues affecting their communities, the first step toward prioritizing those issues and ultimately creating a progressive statewide People's Agenda that can effect real and lasting change in Louisiana communities.

Coming out of the conference, Power Coalition members are looking to develop opportunities for residents to participate in and have a real voice in the critical policy decisions that matter to them, as well as to create a leadership pipeline for them to lead neighborhood canvasses and activate voters.

"We are really looking to build community voice and power," said LaTanja Silvester from SEIU LA 21. "Whether it's civic engagement, racial justice, worker rights, or policy advocacy, our communities are ready to take the lead in Louisiana."
---

---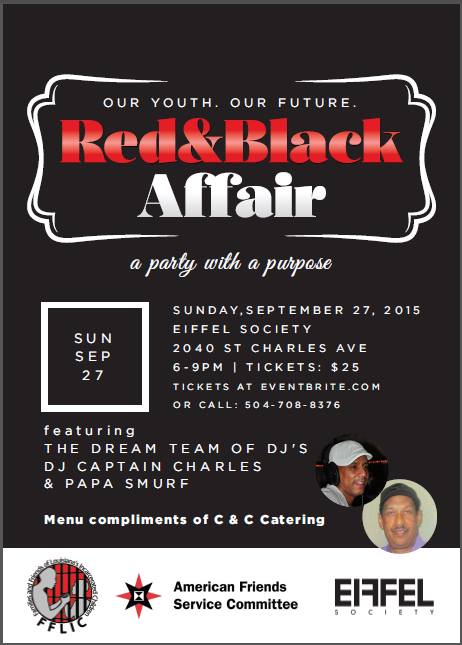 ---
THERE IS STILL TIME TO BECOME A SPONSOR, deadline: 09/16/2015 Call Ernest Johnson: 504.451.8908. Registration Form attached.